San Diego has it all – nationally recognized education, a strong economy and thriving local businesses, it's a great place to live overall. The abundance of successful large companies in San Diego allows for a great amount of job opportunity, and it boasts one of the most impressive low unemployment rates in the country.
San Diego offer amazing beaches, spectacular ocean views, fantastic weather and a plethora of activities around the city. Sea World, Legoland, and the San Diego Zoo, are just a small handful of options for entertainment. As the neighborhoods do differ from each other, below are the top places to live in San Diego.
La Jolla
Famously known as the West Coast's "Jewel", La Holla offers one of the most picturesque coasts in California. La Holla is one of the most expensive places to live, stay, dine and shop in the country, and is known for its spectacular multimillion-dollar mansions that surround La Jolla Village and La Jolla Cove. The beautiful streets of la holla are lined with high end designer stores, luxury boutiques, restaurants, high-class hotels and a great number of art galleries. It has several businesses, branching from finance, software and bioengineering, to scientific research and medicine. Overall, La Jolla most definitely has a thriving economy. Every day is filled with fun in La Jolla, as there usually are several events planned daily to enjoy. If you're a golf lover, La Jolla is also the home to the Torrey Pines Golf Course. If not a stay, this amazing San Diego neighborhood deserves at least a visit, and be sure that you won't be wanting to leave, ever.
Chula Vista
Chula Vista is located in the heat of one of the richest cultural, environmentally diverse parts of the United States. Chula Vista boasts an abundance of landscaping, rolling hills, mountains, parks and trails. Chula Vista has outstanding public schools and was even named to be one of the safest cities in California.
It definitely lives up to its name – that means "beautiful view", with amazing weather all year long. Miles of trails, coastline and mountains attract hikers, bikers and all kinds of outdoor enthusiasts year-round. If you visit downtown, you will find high-end retail stores, movie theaters, a wide range of dining options and specialty shops. Third Avenue Village is the home of the city's culture – featuring a farmer's market, historic buildings, landmark restaurants, and outdoor music events.
More than 60 well-maintained parks are available for outdoor activities, picnics and recreation. Chula Vista is also the home to Aquatica, SeaWorld's Waterpark.
Established neighborhoods, corporations, famous venues and an award-winning nature center with a historic downtown make Chula Vista a top pick for businesses and families to call home.
Carlsbad
Commonly known as "The Village by the Sea", Carlsbad offers the European charm mixed with the perks of a big city. As you stroll the city, you'll find a number of boutiques, cafés, and antique stores, beautifully blended with a picturesque coastline, top-class resorts and more. Carlsbad offers unique events and activities year-round, from street fairs – to uncrowded beaches for swimming and sunbathing, and you can also visit the beautiful lagoons for fishing or hiking along the magnificent nature trails. Carlsbad is also the home of Legoland and Sea Life. Having only a little bit over a hundred thousand residents, Carlsbad has maintained a healthy blend of open spaces, while still keeping its small-town feel and abundance of outstanding amenities.
Solana Beach
The unmatched beauty under the name of Solana Beach is located along the northern coast of San Diego. Famous for its shopping, art galleries, furniture shops, boutiques and other unique stores, Solana Beach will definitely become one of your favorite destinations for shopping, dining, enjoying the beach and its immaculate coastal views and hiking. Solana Beach is also the home to a vibrant train station, that gives it easy access to a number of locations. Solana Beach started off as a farming community with no beach access – and when a gap was cut out in the bluffs, Solana Beach continuously grew into the beautiful coastal neighborhood of San Diego it is today.
Normal Heights
The neighbor of University Heights, and the home of many unique coffeehouses and antique stores, Normal Heights is the perfect environment for everyone free-spirited and artistic. Normal Heights offers live music events every day and night, with a vast number of music festivals year-long. Adams Avenue Unplugged – famous for its folk, jazz, blues and international music is a free two-day event held annually in Normal Heights. There is an abundance of rock and hip-hop themed bars that introduce new live music acts every night. Unique dining options are what make Normal Heights stand out. If you think you've "seen it all" – Normal Heights will prove you wrong. If you can't stand the thought of living in a "cookie-cutter" neighborhood, Normal Heights will catch your eye without a doubt.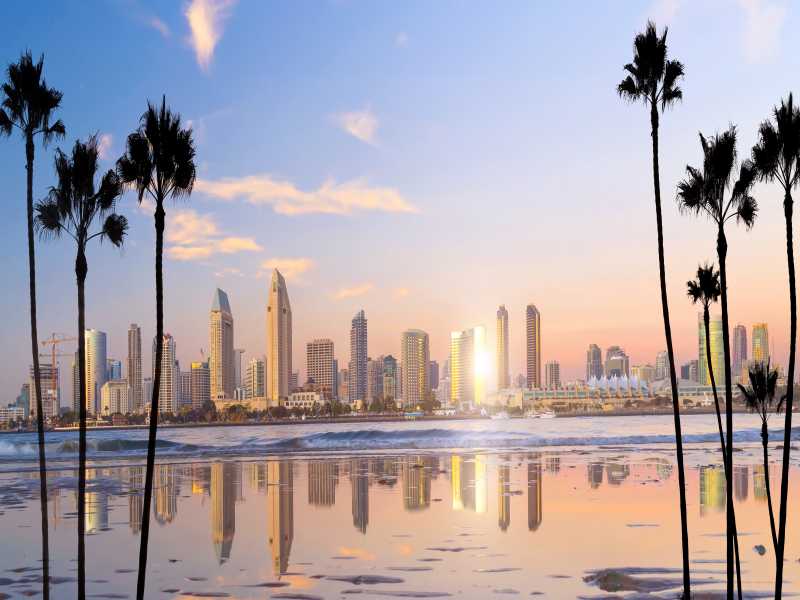 Ocean Beach
Ocean Beach is a more relaxed (and affordable) alternative to any other San Diego beachside neighborhood. You're getting all of the perks, magnificent views, immaculate beaches and amazing fishing – at a much more affordable cost than its neighbors. Another amazing part of Ocean Beach, is that it's very close to the center of San Diego – but still maintains its relaxed vibe and attitude. If you've dreamed about the beauty of San Diego's beaches, but aren't interested in the sky-high prices of for example – La Jolla, then Ocean Beach is definitely the best spot for you.